HOSPITAL SURVEY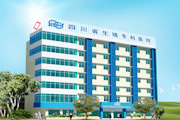 Sichuan Reproductive Health Research Center Affiliated Hospital (referred to as the Sichuan Provincial Hospital) was founded in 1985, has been 34 years of history, is a engaged in sexual reproductive health and infertility professional study and clinical treatment of medical institutions at the provincial level. The hospital has to bear the domestic more than 80 research projects, and bilateral cooperation project WHO 24. Which was the national award 1, ministerial award 11, the provincial award 24, the provincial department level award 19. Many times in international academic meeting discussion, and actively promote the development of reproductive health, and constantly to scientific research to clinical application.
Hospitals adhere to the "focus on reproductive health, diagnosis and treatment of infertility, for eugenics" tenet doing a courtyard, to provide professional services for patients.
International Medical Center

Chinese obstetrics and Gynecology Hospital Union unite and medical institutions at all levels, in the cause of women's health, improve the overall level of clinical diagnosis and treatment of our hospital department of gynaecology and obstetrics.